2018 Ford EcoSport Release Date | At Muzi Ford serving Boston, Cambridge, Newton & Needham
With the subcompact SUV segment catching fire in the United States, Ford has officially decided to throw its hat into the ring with the new EcoSport. The team here at Muzi Ford in Needham, Massachusetts is excited for the upcoming
2018 Ford EcoSport Release Date
.

The recent growth in the subcompact market is truly staggering. In 2011 approximately 70,000 subcompact SUV sales were recorded, while 2015's sales almost quadrupled that figure with 276,000 units sold. All indications are that 2016 will easily top that figure.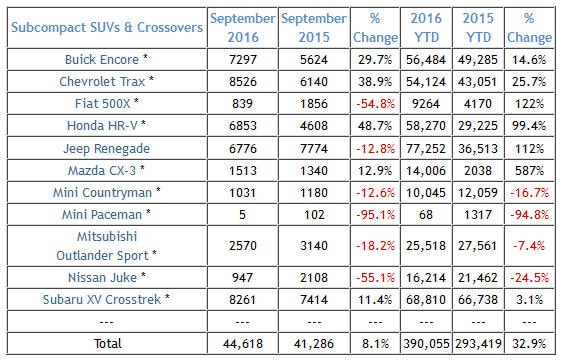 There has been a huge spike in subcompact SUV sales in the United States since 2011.
The segment's rise in popularity has come with a massive influx of new vehicle options including the Jeep Renegade, Chevy Trax, Mazda CX-3 and Buick Encore which are finding quite a few spots in local MA garages in 2016.  The Ford EcoSport will start vying for some of that real estate in early 2018. 
The EcoSport is not a new vehicle in Ford lineup. In fact it was originally built in Brazil in 2003 and has actually been the
#1 selling subcompact outside the US
. The vehicle has significant popularity in India, Japan & across Europe.
What Makes The New 2018 Ford EcoSport Tick
The EcoSport will come in two engine options the award-winning 1.0L 3 Cylinder FWD that will produce between 99 and 123 HP and the 2.0L 4WD 4 Cylinder that produces 143HP and 137lb-ft of torque. Both options will be paired with a 6-speed automatic transmission.

The technology in the 2018 EcoSport will be top of the line, featuring a large 8-inch floating touchscreen display, which will be the largest in the segment. The new Ford SUV will also come come with an optional
Bang and Olufsen premium audio system
which produces 675 watts of amplification across a 10 speaker system.
Powering the infotainment system is Ford's SYNC3 software with voice recognition and Apple CarPlay & Android Auto integration.
What the Ford EcoSport lacks in size it certainly makes up for in character. We expect to see in the new EcoSport on the ground at Muzi and other MA Ford Dealerships in early 2018. Production is expected to start in 2017.  As soon as we get the official information on the 2018 Ford EcoSport Release Date we will pass it along here and on the Muzi Ford Blog Page!