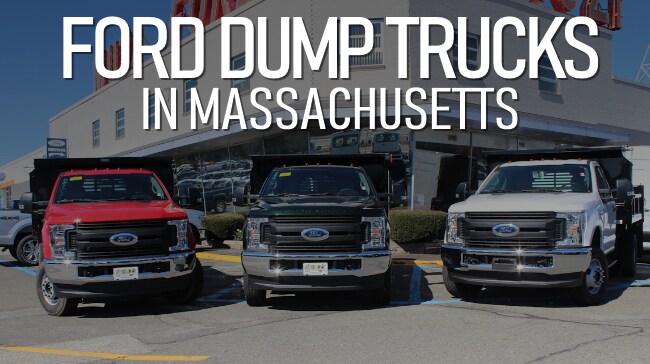 New Ford Dump Trucks Near Boston, Framingham and Norwood, MA at Muzi Ford
Here at Muzi Ford, our commercial truck team gets to work for you. We know that you are busy and you need the right dump truck to get the job done right. That is why we keep an extensive inventory of work-ready
Ford dump trucks
on site for our customers in the Boston, Framingham and Norwood, MA area.
Our Commercial Truck Team includes
Tim Duffy
, who has over 20 years of Ford Truck experience, and
Scot Rodman
who has over 40 years of Ford Truck experience. Their combined knowledge and expertise means that your dump truck buying experience will be easy, informative, and you can rest assured that you will drive off in the right dump truck for your business.
A Ford Dump Truck Lineup That is Unrivaled in Massachusetts
The new Ford Super Duties are without question the toughest, smartest and most capable trucks that have ever been manufactured and that is why they serve as the perfect platform for your new Ford Dump truck.

The new Super Duty is crafted with an innovative combination of military-grade, aluminum alloy that is lighter than steel and provides weight savings that can be redistributed into your payload.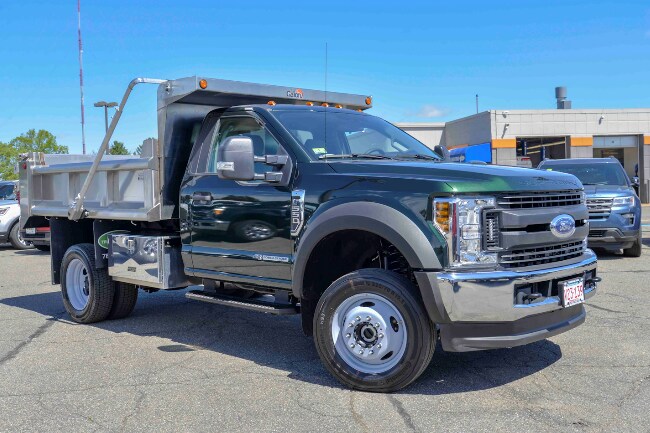 We know it can sound conceited when Ford touts that it's the number one truck for the last 40+ years, but it is the #1 selling truck for good reason. Quite simply, the numbers don't lie.
That is why the Muzi Ford commercial stocks a huge selection of Ford F-250, F-350 and F-550 Super Duty trucks. Not only do we stock a large volume of these trucks, but we have a wide variety of trim levels and configurations to suit every buyer's needs and desires.

Let's take a closer look at the capability of some of our popular Super Duty models and the Best In Class hardware that they are racking up.

A Closer Look At 2019 Ford F-350 Trim Levels and Inventory
The 2019 Ford F-250 Super Duty and
2019 Ford F-350 Super Duty
are the most popular trucks for our local Boston area contractors. These trucks have an impressive amount of technology and some incredible power and capability. We also stock our Super Duties in Chassis Cabs for our customers who may be interested in a unique, personalized upfit for their business or personal use.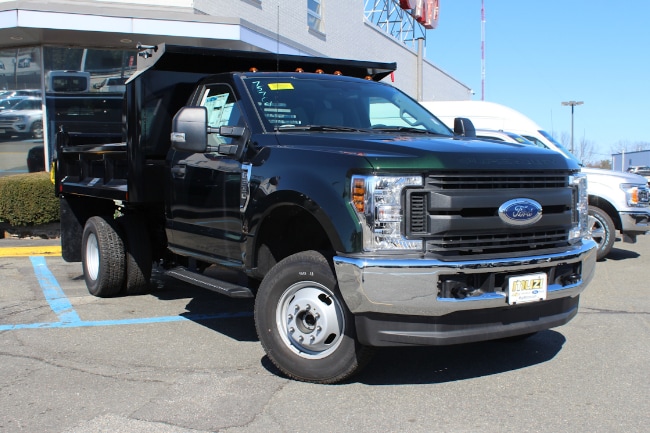 The new 2019 Ford F-350 Super Duty comes in 6 different trim levels that are available at Muzi Ford near Boston, MA. They include the new 2019 F-350 Super Duty XL, 2019 F-350 Super Duty XLT, 2019 F-350 Super Duty Lariat, 2019 F-350 Super Duty King Ranch, 2019 Ford F-350 Super Duty Platinum and the 2019 F-350 Super Duty Limited.

So, whether you are looking for a bare bones work truck or all of the creature comforts for a daily driver, Muzi Ford has you covered. Regardless of which trim you choose, your F-350 will provide reliable power and capability to handle any job.
Ford Racks Up Best In Class Honors For Super Duty Towing and Payload Numbers
The F-350 is available in 6.2L V8 that produces 385 horsepower and an impressive 430lb-ft of torque, good enough for Best in Class honors. The other option is a 6.7L Powerstroke V8 Turbo Diesel that offers drivers 450 horsepower and 935 lb-ft of torque. This engine is an absolute workhorse and has received Best in Class honors in both horsepower and torque.

So, what does all of this power mean for payload and towing capacity. Well, the 2019 Ford F-350 payload capacity is 7,640 lbs, which is (of course) Best in Class. It offers a max towing capacity of 21,000lbs and a max gooseneck towing capacity of 35,000lbs and a max fifth wheel towing capacity of 27,500lbs. Oh yeah, and those mad towing capacity and gooseneck towing capacities are also Best in Class.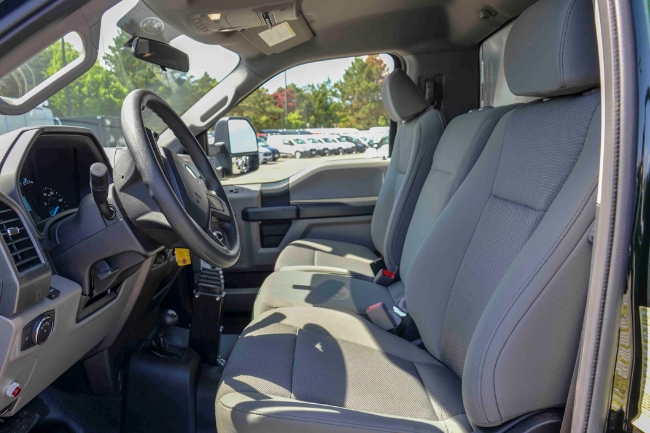 So the numbers don't lie, Ford F-350 is clearly one of the most capable trucks available on the market today and that is why our Massachusetts Ford Dump Truck customers love to upfit their F-350 with a variety of Dump bodies. They are powerful, reliable, and versatile and that is why they have been tops in the industry for over 4 decades.

But, if the F-350 is not enough for your job, you can always turn to the Ford F-550.

2019 Ford F-550 Towing Capacity and Payload Numbers Are Impressive
The
F-550 reigns supreme
at the top of the Super Duty lineup. Available in 3 different trim levels: XL, XLT, and Lariat, the 2019 Ford F-550 will not let you down.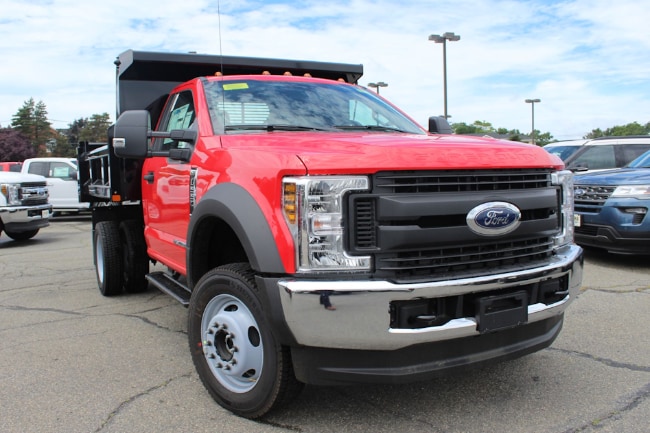 The standard engine on the F-550 is the 6.8L V10 which provides an impressive 20,600lb towing capacity with 5th wheel and 18,500 pounds without it. The payload is an astronomical 12,730lbs allowing you to move any sod, rock or bulk material that the job calls for.

If those numbers are not impressive enough, don't worry, the F-550 is also available with a 6.7L Power Stroke V8 Turbo Diesel that cranks up that max towing capacity 31,800lbs with a fifth wheel. Pretty impressive stuff.

Some Of Our Recent Ford Dump Truck Configurations At Muzi Ford
To provide you a sample of the types of upfits that we can offer, here is a small gallery of some of the dump trucks we recently built.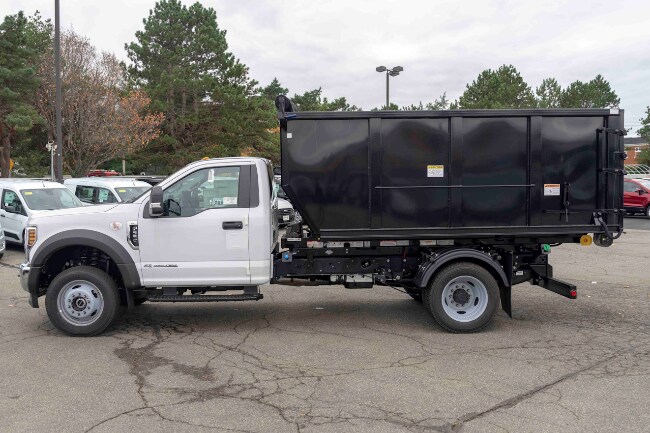 New Ford F-550 Switch N Go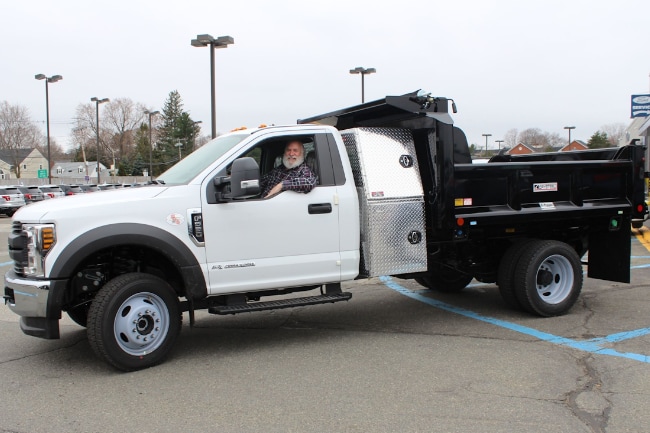 New Ford F-550 Dump Truck With I Pack

Buy A New Ford Dump Truck At Muzi Ford near Boston, Framingham and Norwood, MA
If you're in the market for a New Ford dump truck near Boston, MA, Muzi Ford has you covered. Whether you need a landscape body, 2-3 yard Rugby, a switch n go, or any other configuration, our commercial truck team has you covered with the best selection of Ford Dump Trucks in Massachusetts. You can always view our latest
Ford Commercial Truck Deals
on our specials page. They are updated each month. We look forward to helping you find the perfect new Ford dump truck for your business.