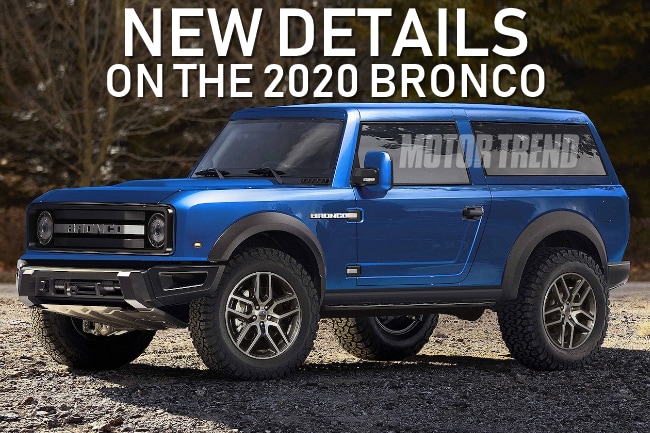 Exciting New Details On The 2020 Ford Bronco Specs, Styling, and Release Date
If Ford Motor Company were a defendant on Law & Order, we think that they would be one of the rare birds that actually got off scot-free. Sorry, Jack McCoy, silence is constitutionally protected.
Ford has been impressively, and frustratingly, tight-lipped about the
new Ford Bronco Release
, which is undoubtedly its most exciting vehicle launch in many years. Despite the silence surrounding the new Bronco, the picture is starting to come into focus. Here is the latest information that we have compiled regarding the
new Ford Bronco specs, styling and release date
.
New Ford Bronco Prototype Spotted In The Wild
Some recent detective work uncovered this short bed, short cab, Ford F-150 Raptor out in the wild. An interesting new pickup design? Perhaps. But, more likely, a test mule for the new full-size 2020 Ford Bronco. Based on what we're starting to piece together, we are excited for where things are going.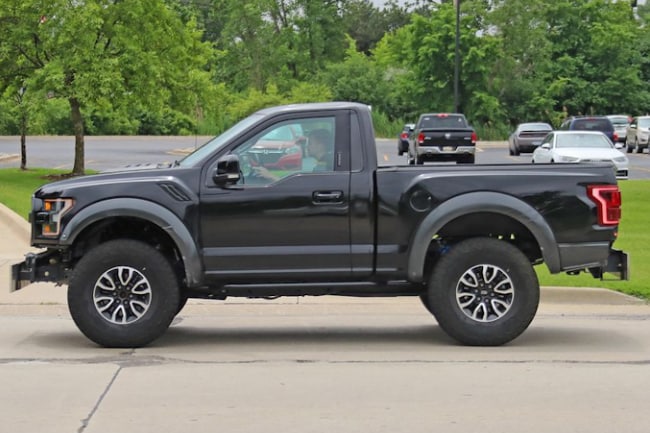 Here are some other images that have recently surfaced of the new baby Bronco.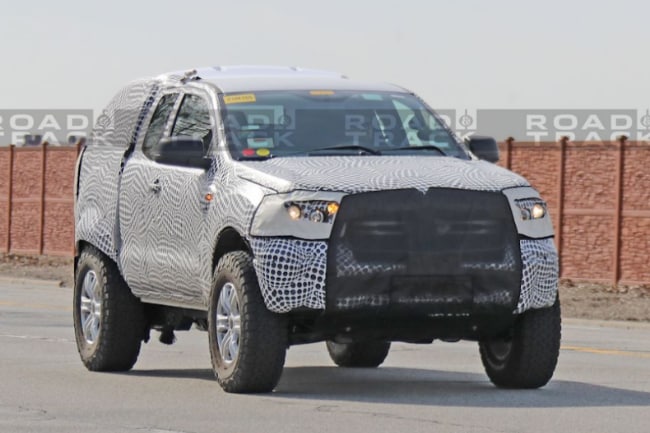 It looks like the new Bronco will come with a nice wide stance,
33" BF Goodrich all terrain K02 tires
, will have a
solid rear axle
and a
hearty skid-plate
providing a sound framework for some off-road action.
Ford Motor Company Teases Dealers With New Bronco
Down at a recent conference in Palm Beach Florida, Ford executives afforded their dealer partners a sneak peek at the new Bronco. Dealers were first asked to relinquish their cell phones and then Ford executives gave them the first look at the highly anticipated new release.
Dealers were excited by what they saw.
By all accounts, Ford is going to pay homage to the Bronco's past. What was
unveiled in Palm Beach
was a new Bronco with a rectangular grille, round headlights and Bronco stamped across the grille. When asked about the design, dealers were elated.
One dealer stated that it "was twice as cool as I thought it would be."
Another dealer stated that "It's going to be a game changer."
The Bronco is set to be produced at Ford's Michigan Assembly Plant where they are currently manufacturing the new Ford Ranger.
The New Bronco Will Come In Both 2 Door and 4 Door Configurations
We are excited to learn that the new 2020 Ford Bronco will officially come in both 2 door and 4 door configurations. Those doors, along with the roof will be removable providing direct competition to the popular Jeep Wrangler. Below are some images from an actual patent application submitted by Ford Motor Company, so it appears there will be a few different roof options.
One difference between the Wrangler and the new Bronco is that the mirrors will be attached to the A-Pillars instead of the doors so that the Bronco (unlike Wrangler) will have mirrors when the doors are removed. Well-played, Ford.
Will The New Ford Bronco Come In A Hybrid or Electric Configuration?
The simple answer is yes. The
new Ford Bronco will come in a hybrid and/or plug-in hybrid configuration
. Ford, like all manufacturers right now, is focused on providing electric and hybrid options for all of its model line. Even the Ford F-150 and truck line will be receiving the electric treatment.
This is a great first step for Ford which will allow it to directly compete against Wrangler which has already released a hybrid version of its 4 cylinder model and is slated to offer a plug in option as well.
New Details On The 2020 Ford Bronco Release Date
Sorry Boston, you won't be dropping the top and hitting the beach in the new Bronco this Summer. That is because it is looking like the new 2020 Ford Bronco Release Date will be in the 4th quarter of this year. As soon as our order banks open up we will let you know!