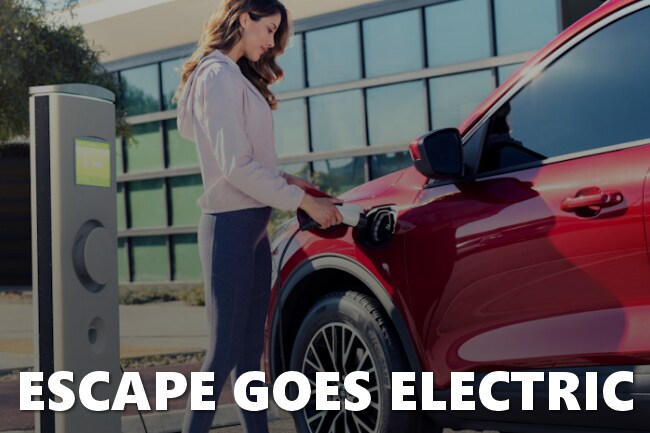 A Closer Look at the 2020 Ford Escape Hybrid & Plug-In Hybrid
Ford engineers have fully redesigned the Ford Escape producing a compact crossover that is lower, wider, and longer than the current generation. The new 2020 Ford Escape has also shed 200lbs, improving driving feel and efficiency.

That's all good stuff but, perhaps, the most exciting news is that Ford is releasing a new 2020 Ford Escape Hybrid and Ford Escape Plug in Hybrid model. This is the first Escape hybrid model since the second generation ended in 2012. Let's take a closer look at what makes these electrified SUVs tick.
What Are The 2020 Ford Escape Engine Options?
The new 2020 Ford Escape will have 4 engine options including 2 turbocharged gasoline engines, a hybrid engine, and a plug-in hybrid option.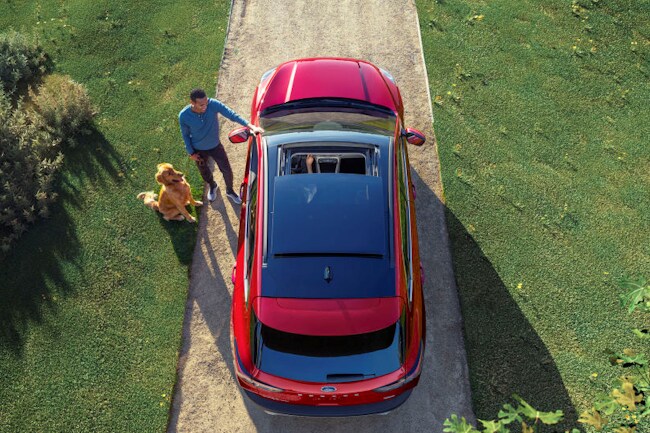 The 2020 Ford Escape engine options are as follows: 1.5L 3 Cylinder that produces 180 horsepower, a 2.0L 4 Cylinder that produces 250 horsepower and 275 lb-ft of torque, a hybrid that produces 198 horsepower & 153 lb-ft of torque and a plug-in hybrid that produces 209 horsepower and 153 lb-ft of torque.

New for 2020, the Ford engines will be mated to an 8-speed transmission, bumped up from the previous generation's 6 speed transmission. The new Escape will also have cylinder deactivation allowing for optimal fuel economy and driving efficiency.

What Are The Specs Of The 2020 Ford Escape Hybrid & PHEV?
The 2020 Ford Escape Hybrid and Escape PHEV will be powered by a 2.5L 4-cylinder gasoline engine that runs on an Atkinson cycle, as well as 2 electric motors with a planetary gearset that combines two different power sources and essentially operates as a continuously variable transmission.

The 2020 Escape Hybrid will churn out about 198 horsepower combined, while its plug-in hybrid cousin will produce an impressive 209 combined horsepower. It's important to note that both the hybrid and plug-in hybrid vehicles weigh a bit more than their gasoline counterparts due to the additional components.
What Is the Range & Charge Time of the 2020 Ford Escape Plug-In Hybrid?
The 2020 Ford Escape Plug-in Hybrid will have a pure electric range of about 30 miles. The new Ford PHEV will provide the driver 4 different options: Auto EV, EV Now, EV Later or EV Charge providing maximum flexibility for each individual driver.

The Auto EV mode allows the vehicle to determine the power source, the EV Now mode kicks the vehicle into electric only mode, the EV later mode switches the Escape into gas only, and EV charge mode is a battery regeneration mode.

While 30 miles may not seem like a significant electric range, it's a nice improvement over the 20 mi. range previously offered in the Fusion Energi & C-MAX Energi, and it can be a game-changer for many Boston area commuters.

For example, let's just say your work commute is 20 miles. You can now drive into work on pure electric energy, charge at work, and drive home solely on electric. You can realistically go months without filling up your tank!
The charge time for the Escape plug-in hybrid is in line with other EVs. With a level 1 charger (standard 110V) your charge time is about 10-11 hours, while a Level 2 charger (240V) will get your Escape PHEV fully charged up in about 3.5 hours.

How Many Miles Per Gallon Will the 2020 Ford Escape Hybrid Get?
The 2020 Ford Escape Hybrid will have a range of approximately 550 miles, placing the 2020 Ford Escape Hybrid at about 38 miles per gallon. That's a pretty impressive number and makes the Escape Hybrid competitive in the compact SUV market.

The standard hybrid's battery pack sits at 1.1 kilowatt-hours, while the plug-in hybrid's is significantly larger, at 14.4 kWh; both are lithium-ion packs that fit under the floor.

How Is the Interior Fit & Finish Of the 2020 Ford Escape?
Ford engineers have implemented some helpful new ideas in the 2020 Escape. First, the new Escape has larger windows providing for better visibility than the previous generation.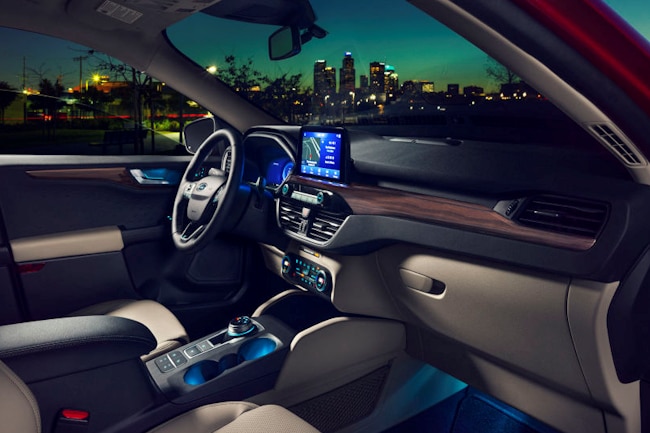 The new Escape also comes with a more spacious interior and a new sliding second row, which can slide 6 inches fore and aft providing for best in class rear leg room!
You will also notice the new rotary gear shift that was previously implemented on models such as the Fusion.

When Is the 2020 Ford Escape Hybrid Release Date?
The new 2020 Ford Escape will arrive in Greater Boston, MA dealerships this Summer. While the new 2020 Escape Hybrid and PHEV will arrive in the Spring of 2020. Here at Muzi Ford we are excited for the arrival of the new 2020 Ford Escape Hybrid and Escape PHEV and we think our customers in the Boston, Newton, Needham, and Norwood, MA area are going to love it!

We will continue to update you as the
2020 Escape Hybrid Release Date
comes closer. But if you can't wait, you can always take a closer look at our
Ford Escape Lease Deals
and Ford Escape Inventory.