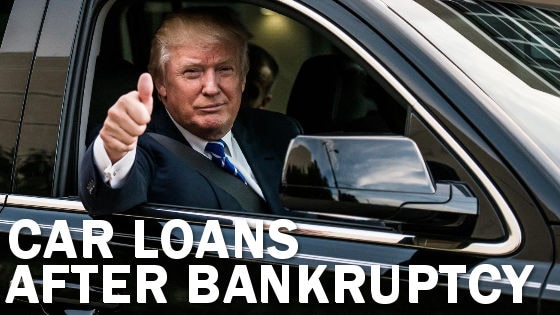 Over 1 million Americans filed for Chapter 7 Bankruptcy Protection in 2011, in the wake of one of the worst financial catastrophes in United States history. Last year, that
number had dropped to 596,86
7. Nonetheless the number of US citizens filing for bankruptcy is still substantial and that does not even include the 306,000+ Chapter 13 filers or all of the businesses that filed for the federal protection.

Not too long ago, bankruptcy was viewed through a negative lens by an American society that was fiercely individualistic and committed to the notion of personal accountability. But recent events have made bankruptcy, not only more acceptable, but a necessary evil in many cases.
Heck, it is pretty hard to believe that the next Republican Presidential Nominee has filed for multiple bankruptcies. It's no secret that Donald Trump filed in 1991 for the Taj Mahal, 1992 for the Plaza Hotel and again in 2004 for Trump Casinos and Resorts. But hey that's Donald, always ahead of the curve!
So with all of these bankruptcies being heard and discharged across the country how does one go about getting a car loan after a bankruptcy?
Well, the short answer is that if your Chapter 7 bankruptcy has been discharged, and you have not reaffirmed your auto loan, it is very likely that you will be able to get an auto loan with a dealership, like Muzi, that specializes in special financing.
Here at Muzi Ford, our experienced finance specialists are well-versed in post-bankruptcy car loan techniques and have helped many Massachusetts drivers get back on the road after a Chapter 7 proceeding. Since Muzi Motors has been in business since 1932 our dealership has developed a vast lending network to get even the most credit-challenged customer approved and that plays to our bankruptcy customers advantage.
Not only can our finance team help our clients get a
car loan after bankruptcy in Massachusetts
, we highly recommend it as a mechanism to help rebuild your credit. A new car loan after bankruptcy is one of quickest and most effective ways to improve your post-discharge credit. The key is just to select the right vehicle, the right term, the right payment.
If you are considering buying a car after bankruptcy, fill out our preapproval form or give our Boston Ford Dealership a ring. We would be happy to help point you in the right direction. Our experienced special finance team will walk you through the process and make buying a car after bankruptcy quick, easy, informative and enjoyable.